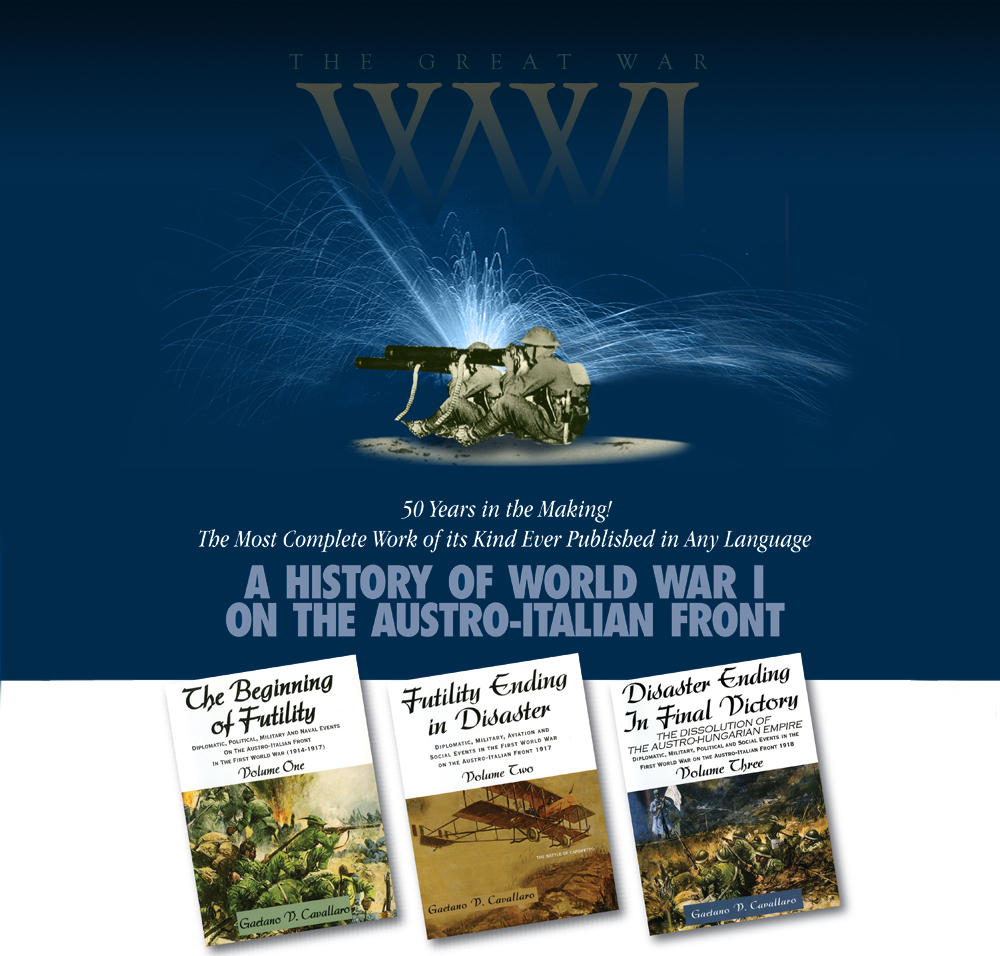 Shown above in blue field: British machine gunners on the Italian front during WWI


Author Gaetano V. Cavallaro, R.Ph., M.D.
presents
A History of World War I
on the Austro-Italian Front

3 Volumes Analyzing the Military History of the Great War

The Most Complete Work of Its Kind Ever Published in Any Language:
50 Years in the Making!

Having spent a lifetime visiting both the battlefields and archives of the nations involved,
the author has recorded complete diplomatic and military events from both sides of the trench.

ABOUT GAETANO V. CAVALLARO, R. Ph., M.D.


     For 40 years Dr. Cavallaro has held seminars all over the world concerning the Great War.
He has been invited by the Italian government to hold various conferences in Italian in Australia,
in Rome in Piazza Colonna, opposite Palazzo Chigi the residence of the Italian Prime Minister,
as well as in English in Great Britain. 

In the United States he has spoken and organized seminars from San Francisco to Boston.  
     He has written three volumes in English describing the political, diplomatic , military, naval,
aviation, and social events in Italy during the Great War. 
Having been translated into Italian, they will soon be available in bookstores in Italy. 
In addition he is working to complete an eight-hour TV documentary
using film from archives in London, Vienna, and Rome on events
on the Austro-Italian front about one century ago.

     Today he is chairman of the NY-New England branch of the World War One Historical Association
organizing seminars on the Great War in the northeast USA.
The next one is scheduled at the Franklin Roosevelt Library, Hyde Park, New York in November of 2017..

He has been asked by the U.S. government to evaluate applications
for funding of TV documentaries on the First World War.

MEET GAETANO CAVALLARO
Watch a Video by Robert Miele
with Excerpts from Lectures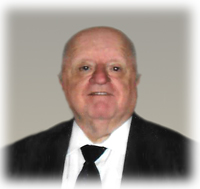 ---
Da 40 anni il Dr. Cavallaro ha tenuto seminari riguardo la Grande Guerra in tutto il mondo.  E' stato invitato dal Governo italiano a tenere conferenze e parlare in italiano in Australia , poi a Roma in Piazza Colonna, dirimpetto al Palazzo Chigi la residenza del Presidenza del Consiglio, ed anche in inglese nella Gran Bretagna.  Negli Stati Uniti ha fatto delle orazione ed anche organizzato seminar sempre sullo stesso tema, la Grande Guerra da San Francisco a Boston. Ha scritto tre volumi in inglese descrivendo gli eventi politici, quelle diplomatici, i militari, le navale, di aviazione e finalmente sociale in Italia durante la Grande Guerra. Tradotti in italiano fra poco saranno in edicola in Italia. Inoltre sta per completare un documentario televisivo usando pellicole ottenuto dagli archivi di Londra, Vienna, e Roma su quei eventi sul Fronte austro-italiano circa un secolo fa. Oggi e' Presidente del settore NY-New England della WorldWarOneHistoricalAssociation organizzando seminar sulla Grande Guerra nel nordest degli Stati Uniti. Il Dr. Cavallaro adesso sta organizzando un seminar per l'anno prossimo che sara' nel museo della casa del defunto President Franklin D. Roosevelt. Oggigiorni e' chiesto dal Governostatunitense di valutare le richieste per finanziamento di documentari televisivi sulla Grande Guerra.    

---

– ABOUT HIS BOOKS –



THE BEGINNING OF FUTILITY
Diplomatic, Political, Military and Naval Events
on the Austro-Italian Front in the First World War, 1914-1917: Volume I

Vol. I Hard Cover - ISBN: 978-1-4010-8426-4
Maps, Photographs, Sketches, Glossary, Notes, Appendixes, Bibliography, Index, Pp xlviii, 733 pages

Since Pickett's failed charge at Gettysburg, the frontal infantry assault had been known as obsolete.
Nevertheless fifty years later, Allied military leaders in the Great War persisted in using it as a military tactic.
Italian military leaders were no exception, not even accepting the deadly effect of machine guns or quick-firing artillery.
The Battles of the Isonzo on the Austro-Italian Front have now been classified with Verdun as to intensity and casualty lists.
Those largest mountain warfare battles in history in the Isonzo River Valley resulted in almost two million casualties
from avalanches, frostbite, malaria, cholera, as well as prisoner-of-war starvation.
Fighting at altitudes of 5,000-8,000 ft., the combatants had to contend with constant fog;
thunderstorms which rendered telephones inoperable; snow which many had never seen;
and high winds which interfered with shell trajectories.

A lengthy naval chapter describes the belligerent navies and the Battle of the Otranto Straits
where an Italian admiral from the bridge of a British cruiser commanded French, British and Italian ships
against Austro-German warships. Also discussed is the submarine warfare on the Adriatic and Mediterranean Seas
which resulted in the highest loss of tonnage ever recorded.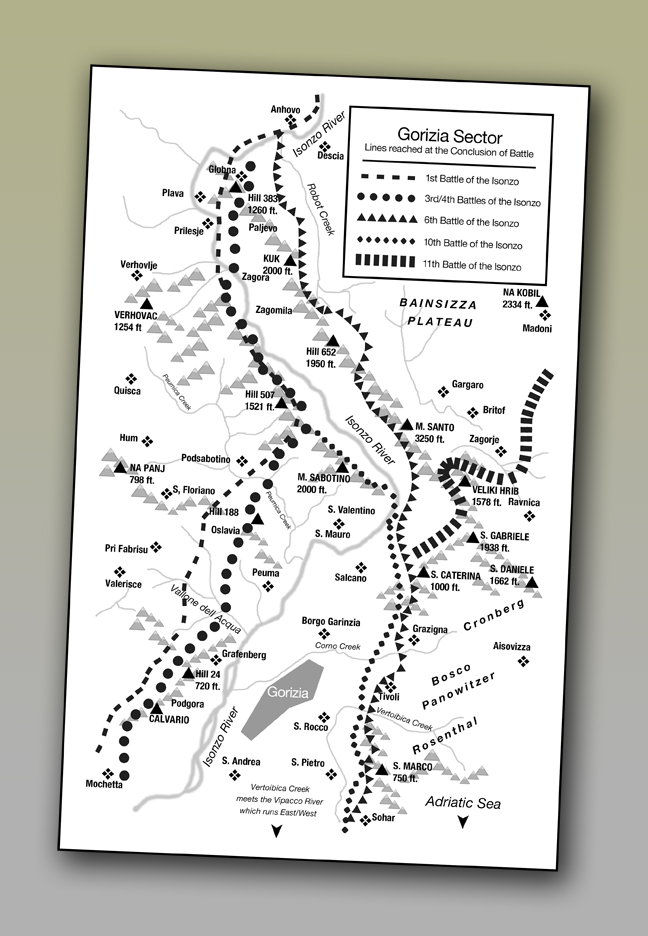 Above: Map of Italy's Gorizia Sector which bore the burden of multiple Battles of the Isonzo during WWI.

Click on Map to enlarge

After its unification in 1870, the Kingdom of Italy looked about for a diplomatic alliance and settled on
the empires of Austria-Hungary and Germany, forming the Triple Alliance in 1882.
About twenty percent of Italy's troops spoke Italian while Vienna's armies spoke fourteen languages.
When the alliance was renewed in 1887, a secret clause was inserted (Article VII) to the effect that
should Vienna attack in the Balkans and ask Rome's help, Italy was entitled to territorial indemnification.
After the outbreak of the conflict, both Vienna and Berlin told Rome that payment would be at the end of the war,
which was unacceptable to Rome, now motivated to secretly align itself with London, Paris and Petrograd
through the Treaty of London. Rome's ill-fed, ill-equipped, ill-led, dialect-speaking troops pushed the enemy back
using only the attacco frontale. The lives of the fanti* were used as coin to advance at a terrible cost,
finally forcing Vienna to realize in August 1917 that it was in grave danger and needed to ask Berlin's help
to orchestrate a counterattack – which culminated in Caporetto. The prelude to this is discussed from all perspectives
along with the four commandments of blitzkrieg which the German Army would still adhere to in France
in May of 1940, as General Erwin Rommel (a hero of Caporetto of future fame and tragic end)
subsequently would use in North Africa.

* fanti is an Italian term meaning infantry

READ EXCERPT

HOW TO PURCHASE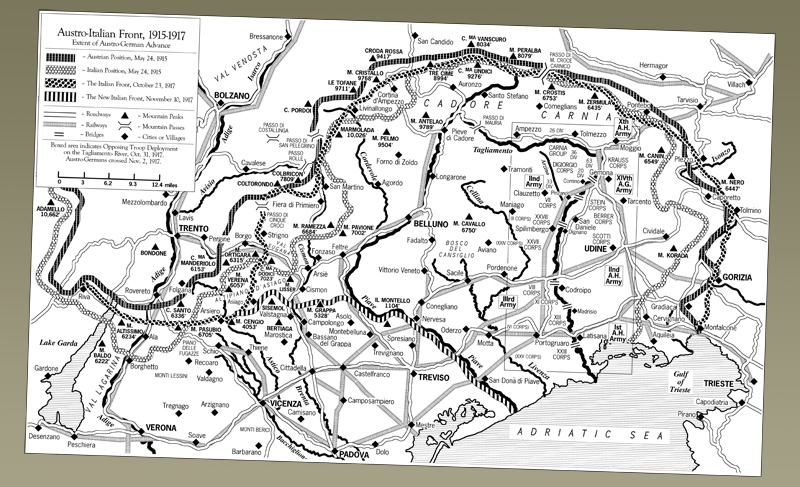 Click on map to enlarge





FUTILITY ENDING IN DISASTER
Diplomatic, Military, Aviation and Social Events in The First World War on The Austro-Italian Front: Volume II

Vol. II Hard Cover - ISBN: 978-1-4134-5742-1
Maps, Photos, Glossary, Notes, Appendix, Bibliography, Index, Pp. xxiv, 675 pages

As noted in The Beginning of Futility, the fanti had pushed the enemy back. Berlin's help was requested.
On October 24, 1917, the Austro-Germans unleashed the first blitzkrieg of the century, pushing back
the defenders one hundred miles. Italian Intelligence warnings had been discarded as "it was too late in the year for an offensive."
There are full discussions of movements from both sides down to a division, or even a regiment and company level, with
detailed accounts of events on the Asiago Plateau. Mt. Grappa and the Piave River. Italian morale had been plummeting
for about one year and was accentuated by the inability to handle the enemy advance. Many troops deserted;
others gave themselves up as prisoners. They had been asked to fight for Italy but being illiterate, few knew what Italy was.
Finally, they were asked to fight for their wives, their sweethearts and their homes and property, which resulted
in the desired effect. There were many episodes of cowardice and heroism especially on
Mt. Grappa which a German commander named the Italians' sacred mountain.

There is a lengthy chapter critiquing events representing both sides of the conflict with controversial actions by individual generals.
Post-Caporetto diplomatic, military and social conditions are noted. In the next to last chapter, the new weapons of war
(planes and tanks) are discussed, with emphasis given to planes, since tanks could not be used in the mountainous terrain.
Contributions of each belligerent on the Italian Front from planes to units to an air ace list, with many photos, are included.
Finally, the text closes with a continuation of the Pasubio episodes, which has been called the Thermopylae of the Tyrol by Habsburg troops.

READ EXCERPT

HOW TO PURCHASE

DISASTER ENDING IN FINAL VICTORY
The Dissolution of the Austro-Hungarian Empire: Volume III

Vol. III Hard Cover - ISBN: 978-1-4134-6801-4
Maps, Photographs, Notes, Appendixes, Complete 3-vol. Bibliography, Index, 677 pages

The Beginning of Futility and Futility Ending in Disaster discussed Italy's joining the allies
and going on the offensive against Austria-Hungary. With Berlin's help, deep penetrations were made into Italian territory
resulting in allied troops coming to Italy's assistance while secret negotiations for a separate peace with Vienna
between U.S. President Wilson and England's Prime Minister Lloyd George failed. A repeat Habsburg offensive
was halted followed by the issuance of the Manifesto which would place the empire's ethnics
as independent nations under the Habsburg crown, a move which led to the disintegration of the Habsburg Army and Empire.

READ EXCERPT

HOW TO PURCHASE

• Published by Xlibris •

READ EXCERPTS VIA GOOGLE BOOKS PROGRAM
Dr. Cavallaro's three volumes are available for multiple page review through Google Books.
Use the search box below to find each individual book, then to search for content within his books.




For information about purchasing books, individually or as a complete boxed set,
as well as any other questions, please contact:

info@WorldWarOneHistory.com
About | Author | Lecturer | Review | Purchase Books | Site Map | Contact | Home
Privacy
| © 2010 WorldWarOneHistory.com
Tags:Books on World War One (WWI), History of The Best of the Great War, Books (non-fiction, text books, hardcover, paperback, eBooks) for educational classes/courses, university/college/school degrees, post graduate reference, gifts to students or aficionados of Military, European, Italian, Austro-Hungarian Modern History, 20th Century World War One Analysis. War expert Gaetano V. Cavallaro, R.Ph., MD, Lecturer and Author of The Beginning of Futility (Diplomatic, Political, Military and Naval Events on the Austro-Italian Front in the First World War 1914-1917 Volume I - ISBN: 978-1-4010-8426-4); Futility Ending in Disaster (Diplomatic, Military, Aviation and Social Events in The First World War, Volume II - ISBN: 978-1-4134-5742-1); Disaster Ending In Final Victory (THE DISSOLUTION OF THE AUSTRO-HUNGARIAN EMPIRE Volume III - ISBN: 978-1-4134-6801-4; | Published by Xlibris, provides in-depth insight, having spent a lifetime researching the subject on the battlefields, within the archives and through personal contact with members of the military, governments, universities and families worldwide. World War I, 1914, 1915, 1916, 1917, 1918, Germany, Berlin, Great Britain, UK, Russia, USSR, USA, America, United States, Gas Warfare, Trench Warfare, Dogfight, Bi-Plane, Austria, Archduke, Franz, Ferdinand, Sarajevo, Bosnia, Kaiser, Czar, Tsar, Zeppelin, Battles of the Isonzo, Asiago, Gorizia, Caporetto, Piave River, Vittorio Veneto, Habsburg Army and Empire, US President Woodrow Wilson, England's Prime Minister Lloyd George; assassination of Archduke Francis Ferdinand; Central Powers; Vienna; the Triple Alliance; Lt. Erwin Rommel; Ernest Hemingway; Italian President Giovanni Gronchi; blitzkrieg; decimation; enemy; British; French; veterans; Western Front; unilateral peace via emissaries in Sweden and Switzerland; Emperor Charles issued the Manifesto; Habsburg Crown; surrender; The German and Austro-Hungarian Kaisers in Friuli, 1918; Lt. Erwin Rommel of the Württemberg Mountain Battalion; Major Fiorello LaGuardia, future mayor of New York, who flew a Caproni bomber on the Italian front; Austro-Hungarian Phoenix Fighters at the Pergine Airfield; Wilbur Wright flying his plane at the Rome Airport, 1909